Aaron Copland's best-known music is unmistakably American. "The Copland sound" means cowboy melodies, wide-open spaces, and patriotic fanfares to many listeners. But Copland's artistry is far more complex. The Nonet for strings (1961) shows a different side of Copland. It brings out his ties to Europe, and it takes a long view of time. Nonet is neither overtly "modern" nor wistfully nostalgic. Rather, it integrates past and present, Europe and America. The Nonet is a mature, transnational work that deserves a new, twenty-first-century interpretation.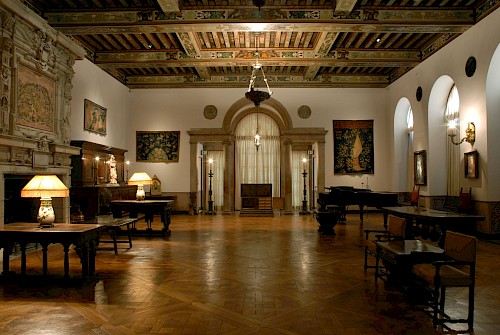 Copland's Nonet for strings premiered at a historic Georgetown estate in Washington DC in March 1961. In a French Baroque-styled music room, the composer and nine members of the National Symphony Orchestra performed the seventeen-minute, three movement work for a private audience of Washington elite. Adjoining rooms displayed Byzantine and pre-Columbian art collected by the Nonet's commissioners: Mildred and Robert Woods Bliss, who owned the estate.
Mildred and Robert Woods Bliss were retired career diplomats and philanthropists. Both came from families influential in business and politics. For decades they served at U.S. embassies in Paris, Brussels, Stockholm, and Buenos Aires. In Paris during World War I, they were honored for their war relief efforts. In 1933 they retired to the 54-acre estate they called "Dumbarton Oaks." They restored the grounds and the mansion and created galleries to display their world-class art collection.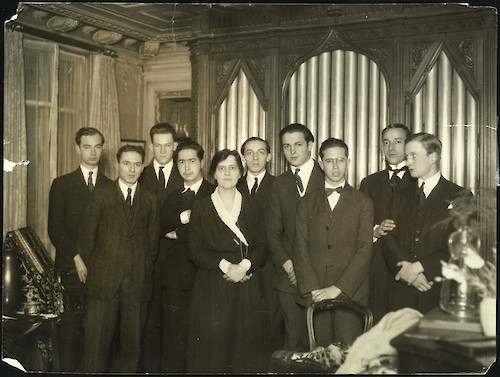 His all-American reputation notwithstanding, Copland had strong ties to European tradition. His early goal as a composition student was to join the ranks of the "masters" of Western art music. As a young man, he spent three years based in Paris. He visited Germany, Italy, and other European countries, absorbing the traditions and the latest trends in composition. His primary teacher was the Parisian-born pedagogue Nadia Boulanger. An early champion of Stravinsky, and the daughter of Russian royalty, Boulanger became a lifelong friend and mentor to Copland.
It was Boulanger who connected Copland with the Bliss family. In Paris during World War I, the Blisses had met Boulanger through their families' mutual involvement in the war effort. They further bonded over their love of music. (At the time, Copland was still a Brooklyn teenager whose furthest horizon was Manhattan.) She later arranged a commission for Stravinsky from the Blisses for their 30th wedding anniversary. Stravinsky's "Dumbarton Oaks" Concerto in E flat premiered in 1938 at the Bliss estate in Georgetown, with Boulanger conducting. She would have conducted the Nonet's premiere too, had Copland finished it in time for the Blisses' 50th anniversary. Instead, her name appeared on the dedication, and Boulanger attended the New York premiere in 1962.
The Nonet's first movement opens with three dense, slow-moving chords in a baritone register. Over the next three minutes, higher register strings gradually join and rhythmic motion increases. Tension and dynamic levels rise to a climax, then subside. The middle movement introduces a lighter texture and flowing rhythms that seem to reference Copland's folk-like style. Soon, however, the mood grows solemn, the harmonies become denser, and the rhythmic motion slows. The playful mood that opened the movement briefly returns, only to be interrupted by short, raspy phrases (sul ponticello) that transition directly into the last movement. Mirroring the first movement, the last moves from emotional angst toward steadiness and calm. It closes with thick, somber chords like those that opened the work.
References to European music history permeate the work. Its recurring three-chord motive functions somewhat like a ground bass or chaconne, a centuries-old variation technique that some scholars trace back to pre-Columbian South America. The work as a whole is in classic arch form, with the third movement mirroring the shape and the ethos of the first. The scoring for nine stringed instruments alludes to a Renaissance-era viol consort.
Despite a warm initial reception by critics and connoisseurs, the Nonet received few subsequent performances. In the 1960s and 1970s, it was too modern for general audiences, but insufficiently "advanced" for the academic establishment. There were roughly fifteen performances given by 1980, most conducted by Copland. Since 1999, it has been programmed by the National Symphony, the Boston Symphony, the New York Philharmonic, the St. Paul Chamber Orchestra, Oliver Knussen, Dennis Russell Davies and others, most recently in 2016.
Today's listeners will find the Nonet an intriguing blend of mid-century modernism and old-world influence. Written in Copland's seventh decade, the work honors long friendships and lives well lived. The Blisses and Boulanger inspired Copland to join the distant past—Byzantine and pre-Columbian art, Renaissance viols, Baroque architecture—with the more immediate past, which included wartime allegiances, Popular Front-era Americanism, and international travel. In the Nonet, Copland wove these histories into a fabric of modern dissonance that expressed his perception of urban American life in the early 1960s. The Nonet is American, but not exceptionalist. It acknowledges America's international ties, its complicated debts to history, and its contemporary tensions. Sixty-one years after its premiere, the work has aged remarkably well.
Of the four recordings that exist, Copland's 1962 recording with the Columbia String Ensemble gives the second movement a uniquely sprightly, slightly dry bounce. William Steinberg's 1964 performance with the New York Philharmonic is tight and engaging. William Boughton's more atmospheric 1990 interpretation with the English Symphony Orchestra is 2 ½ minutes longer. A second 1990 release features the St. Luke's Chamber Ensemble led by Dennis Russell Davies. Their wide range of colors and textures illuminates the work's fine craftsmanship, while carefully shaded dynamic contrasts lead to a transcendent ending. Thirty years after the most recent recording, the Nonet is ripe for a new, 21st-century rendering.
Jennifer DeLapp-Birkett is a musicologist based in Ithaca, New York. Beginning with her award-winning dissertation Copland in the Fifties: Music and Ideology in the McCarthy Era (University of Michigan, 1997), she has contributed substantially to Copland scholarship with many conference papers and publications, most recently as co-editor of a critical edition of Aaron Copland's Appalachian Spring, Original Ballet Version (A-R editions, 2020).
For further reading:
Copland, Aaron and Vivian Perlis. The Complete Copland. (Hillsdale, NY: Pendragon Press, 2013): 285-286.
"Dumbarton Oaks" website: https://www.doaks.org
"Nonet for Strings." Music and Letters 43 no4 (1962): 378.
Plaistow, Stephen. "Some Notes on Copland's Nonet." Tempo 64 (Spring 1963): 6-11.
Pollack, Howard. Aaron Copland: The Life and Work of an Uncommon Man. (New York: Henry Holt, 1999): 490-492.
Salzman, Eric and Paul Des Marais. "Aaron Copland's Nonet: Two Views." Perspectives of New Music vol.1 no.1 (1962): 172-179.
DeLapp-Birkett, Jennifer. "Post-Political Copland: The Nonet for Strings (1961)." Bulletin of the Society for American Music XLVIII No. 1 (Spring 2022): 3-6