While much of Aaron Copland's music has been widely recorded, orchestras, soloists, and ensembles continue to record their new interpretations of his timeless scores. This year has seen three new recordings of Appalachian Spring Suite and Clarinet Concerto, along with chamber, choral, and symphonic works added to the rich discography of Copland's recorded music. As this year comes to a close, take a look back at new recordings released in 2020.
American Pioneers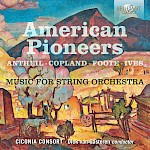 The Ciconia Consort, led by Dick van Gasteren, presents a program of American works from the first half of the 20th century. Copland's Appalachian Spring Suite in the original small ballet instrumentation is featured as the final track along with works by Arthur Foote, George Antheil, and Charles Ives. Released: December 4, 2020 on Brilliant Classics. More info.
From the New World: Dvorak, Barber & Copland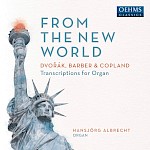 This collection of organ transcriptions performed by Hansjörg Albrecht features a complete performance of Dvorak's Symphony No. 9 & Carnival Overture, Barber's Adagio for Strings, and Copland's Passacaglia, transcribed from the original piano score by John Fesperman. Released: November 20, 2020 on Oehms Classics. More info.
Songs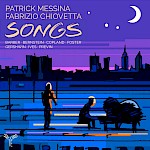 Clarinetist Patrick Messina and pianist Fabrizio Chiovetta join forces for an American program of traditional songs, jazz, Broadway melodies, and more, including Copland's 1976 arrangement of Nocturne for clarinet and piano, originally scored for violin and piano. Other composers featured on the album include André Previn and Stephen Foster, along with Ives, Bernstein, and Gershwin. Released: November 13, 2020 on Label Aparté. More info.
Strauss / Copland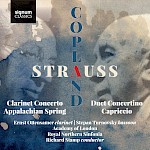 This special release of four works written by Strauss and Copland in the 1940s features the last concerto recording of the late Ernst Ottensamer, former principal clarinetist with the Vienna Philharmonic. Richard Stamp conducts the Academy of London through the Strauss selections and the Royal Northern Symphony through Copland's Clarinet Concerto and Appalachian Spring Suite for thirteen instruments. Released: November 12, 2020 on Signum Classics. More info.
Trust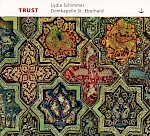 This album of choral works by Faure, Durufle, Grimm, and more is presented by the Domkapelle St. Eberhard under the direction of Lydia Schimmer. Opening the album is Copland's Four Motets, an early work written under Nadia Boulanger's instruction during his studies in Paris in the 1920s. Released: August 7, 2020 on NAVIS Musik. More info.
Father Copland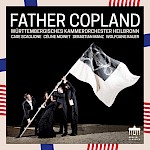 The Württemberg Chamber Orchestra Heilbronn celebrates Aaron Copland with three iconic works: Appalachian Spring Suite, Quiet City, and Clarinet Concerto. Led by Case Scaglione, the album also features soloists Sebastian Manz (clarinet), Wolfgang Bauer (trumpet), and Céline Moinet (English horn). Released: May 15, 2020 on Berlin Classics. More info.
Bernstein, Gershwin & Copland: Works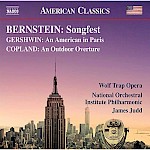 This Naxos American Classics album opens with Gershwin's An American in Paris and Copland's An Outdoor Overture performed by the National Orchestral Institute Philharmonic under James Judd. Bernstein's Songfest for six singers and orchestra closes out the album as the feature title. Released: April 10, 2020 on Naxos. More info.
Copland: Symphony No. 3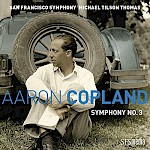 Michael Tilson Thomas and the San Francisco Symphony present this live-concert recording of Copland's Third Symphony. Originally recorded in March of 2018, this Grammy-nominated album can be found alongside other iconic SF Symphony recordings from their in-house label. Released: March 13, 2020 on SFS Media. More info.
Dvorak: Symphony No. 9; Copland: Billy The Kid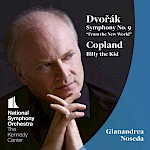 The debut album on the National Symphony Orchestra's new, self-produced record label features two orchestral classics: Dvorak's Symphony No. 9 "From the New World" and Copland's suite from the ballet, Billy The Kid. Gianandrea Noseda conducts the National Symphony Orchestra. Released: February 21, 2020 on National Symphony Orchestra. More info.
Swing: a Benny Goodman Story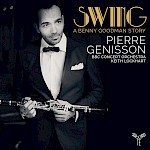 French clarinetist Pierre Genisson celebrates the life and legacy of Benny Goodman in this new album, featuring works commissioned by the King of Swing alongside big band classics. Copland's Clarinet Concerto is performed in its original form as conceived by the composer prior to making adjustments at Goodman's request. Genisson is joined by the BBC Concert Orchestra under the direction of Keith Lockhart. Released: January 24, 2020 on Label Aparté. More info.
Duality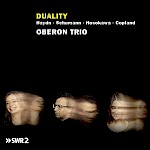 In this new album, the Oberon Trio performs piano trio repertoire from around the world and spanning four centuries, featuring works by Haydn, Schumann, and Hosokawa, along with Copland's 1928 work Vitebsk, a study on a Jewish theme. Released: January 17, 2020 on Avi. More info.